Win a Samsung Galaxy Tab 2 (10.1)!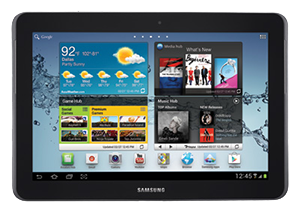 Help spread the word of Bristol's IT MegaMeet, and get the chance to win a Samsung Galaxy Tab 2 (10.1). Sign up to the contest and promote the event with your unique tracking link. You'll be able to see how many visitors you've sent and how many registrations you've referred. The leader board shows who the current top referrers are.
NO Cheating, NO Spamming! Registrations will be verified on the day, no shows will not be counted to your total. Your account will be disabled if you generate spam complaints.
If you do not want to join the contest, but still want to link to us, then please use the badges below.
Note: Simply using the badges below will not enter you into the contest. To be part of the contest you must join and use the unique tracking link provided from your login.
Banners
| | | |
| --- | --- | --- |
| | 180x150 | <a href="http://bristol.itmegameet.co.uk"><img src="http://bristol.itmegameet.co.uk/banners/180x150.png"/></a> |
| | 200x200 | <a href="http://bristol.itmegameet.co.uk"><img src="http://bristol.itmegameet.co.uk/banners/200x200.png"/></a> |
| | 234x60 | <a href="http://bristol.itmegameet.co.uk"><img src="http://bristol.itmegameet.co.uk/banners/234x60.png"/></a> |
| | 468x60 | <a href="http://bristol.itmegameet.co.uk"><img src="http://bristol.itmegameet.co.uk/banners/468x60.png"/></a> |